Our San Bernardino Lawyer Can Help File a Restraining Order
Put Years of Experience in your corner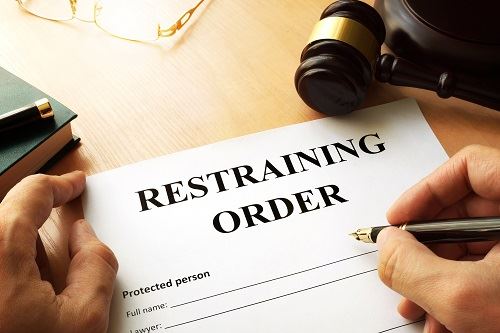 A restraining order is or undefined ordered by the court to protect an individual from abuse, harassment, stalking and / or threats. Also called a protective order, a restraining order must be signed by a judge in civil court. There can be serious consequences if the abuser violates a restraining order, including jail time, limited to no child visitation, and fines. Restraining orders in California function identically across the state, so there are no special requirements in San Bernardino. It's important to understand the basics so that you know under what circumstances they are issued, how to file one, and which type to file.
It is in your best interest to make sure all of the paperwork is done right the first time with the help of a seasoned San Bernardino restraining orders lawyer. At the Law Office of Michael R. Young, our lawyers have over 50 years of collective experience and are well-informed on state laws. We have an A+ rating from the BBB and are AV® rated by Martindale-Hubbell®, an elite attorney rating organization.
To begin a consultation,call (909) 315-4588! We advocate on your behalf and secure the best outcome for you and your loved ones.
The Facts About Restraining Orders
If a restraining order is something you need, it is important to understand the terminology in order to clearly and correctly fill out the required court documents.
First, the "protected person" is the person asking for the restraining order and the abuser is referred to as the "restrained person." Additionally, restraining orders can include multiple people under its protection, like relatives and others who live with the protected person. Restraining orders can help protect you in various ways. A restraining order can demand that the abuser stop certain conduct (also called a "Personal Conduct Order"), keep a certain distance away from protected persons, schools, or homes (also called a "Stay-Away Order"), and can even force the abuser to move out of a home where a protected person lives (also called an "Exclusion Order"). The three main ways a restraining order can protect you are explained in more detail below and can be accessed on the California Court's website.
Personal Conduct Orders: This restraining order stops the abuser from acting in a specific way against individuals named as a "protected person" in the restraining order.

This type of order prohibits the abuser from:

Calling, contacting, or sending emails or other messages to a protected person
Striking, attacking, or battering a protected person
Stalking, threatening, harassing, or sexually assaulting a protected person
Destroying personal property or disturbing the peace of protected persons



Stay-Away Orders: These orders keep the abuser a specified distance away from a protected person or important areas. This distance can be anywhere from 50 to 100 yards.

A stay-away order can keep the abuser from coming near:

The protected person or persons' place of residence, work, school or child care
Where the protected person's car is located
Any places of importance that the protected person frequents



Exclusion Orders: These orders, also called "kick-out" orders, demand that the abuser moves from the protected person's house until the further action from the court. A kick-out order will only be granted in a case of dependent adult abuse, or domestic violence.
Types of Restraining Orders
While the above section explains how a restraining order can protect you, this section will clearly explain which restraining order you should request if you decide to file one with the court. Your individual circumstances will determine which type of restraining order you should ask for, so pay close attention to the descriptions below in order to choose your next step. The types of restraining orders are:
Domestic Violence Restraining Order
You can ask for a domestic violence restraining order if someone has abused you AND you either have a close relationship with that person or you are closely related by blood or marriage. It is important to note that "abuse" can mean different things to the court. You do not have to be physically hit to be abused, and you can ask for a restraining order if you have been abused verbally, emotionally, or psychologically. It is also important to identify your relationship to the abuser when asking for a restraining order.
Per the California Courts website, a "close relationship" means:
You are married
You are registered domestic partners
You are dating or previously dated
You are parents of a child together
You live or have lived together
Similarly, California Courts define a "close relation" as an in-law, grandfather, grandmother, sister, brother, child, or parent. More info on this type of restraining order can be found online: Domestic Violence.
Four Steps to Filing a Restraining Order
Step One: Fill out your court forms.
The three main forms you will need are:
Request for Domestic Violence Restraining Order(Form DV-100)
Notice of Court Hearing(Form DV-109)
Temporary Restraining Order (Form DV-110)
* For more specific information on these forms and others for spousal or child support, please see the California Courts website.
CAUTION:
Please be aware that these forms will go to the restrained person in your case and he/she will get a chance to see everything you write. You can keep your address confidential to protect yourself from your abuser with a program called "Safe at Home" which gives a secure address to use for your court papers.
Step Two: File the forms with the court.
Take your forms to the court clerk and they will give them to the judge. A judge has two business days to decide whether to grant your request for protection. If the judge grants your request, you will get a temporary restraining order for up to three weeks, or until your hearing in court.
Look over all the paperwork the clerk returns to you to see:
If the judge signed the Temporary Restraining Order (Form DV-110)
If the judge made any changes to the orders you asked in your request
If the clerk has sent a copy of your restraining order to your local police department
When your court hearing is on the Notice of Court Hearing (Form DV-109).
* Remember, the day of the court hearing is also the date your temporary order runs out. If you want to extend it, you must go to your hearing to get a permanent order.
Step Three: Once the judge issues your temporary restraining order, you need to serve the abuser.
The restraining order is not valid until the abuser has been served, which means that someone must personally hand the papers to the abuser so that he or she knows about the hearing.
Make sure you note your deadline to serve papers so that you give the abuser the order before this date. To determine the deadline in your case, first look at your court date on page 1 of Form DV-109. Then, look at the number of days written in Item 5 on page 2 of the same form. Subtract this number of days from the court date and this is your deadline for service.
Your local police department may be able to serve your restraining order papers.
You can also pay for a "process server" to deliver the forms.
Step Four: Attend your hearing.
The right preparation will give you confidence, security, and ease of mind. Make sure you don't miss your hearing. If you do, the restraining order will end and you will have to start from the beginning. If your abuser comes to court and you are afraid, tell the court officer and you will be protected. Be sure to get to the courtroom early, make a list of what orders you want, speak slowly, and tell the truth.
Let Our San Bernardino Law Firm Guide You Through the Process
It can be dangerous to miss the deadline or improperly fill out paperwork, which will delay your attempts to protect yourself with a restraining order. With the legal guidance of one of our San Bernardino restraining orders attorneys, you don't have to carry the burden of your circumstances alone. Let the Law Office of Michael R. Young worry about the paperwork while you take care of your family.
We offer consultations and have 50+ years of collective experience. Call our firm at (909) 315-4588 today if you would like to schedule your initial consultation.